Canterbury study centre up for sale for £3.5m
Wed, 29 Mar 2017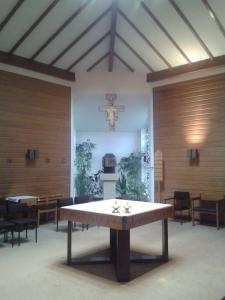 A spiritual training centre in Canterbury which is to close after 46 years is up for sale for £3.5 million.
The Franciscan International Study Centre (FISC), built in the 1970s, is to move out of its Giles Lane site in June,
Kent News
reports.
The centre's board of trustees said it had been "struggling to survive for a number of years" and currently had no students enrolled on some of its courses.
BTF Partnership, the agents appointed to sell the site, said the FISC represents a "fantastic opportunity" for a buyer. It could be turned into student accommodation.
The three-acre site, close to the University of Kent, has a central 15,000 sq ft building with a library, offices, meeting rooms, common room, refectory and kitchen. There are five residential blocks comprising 43 bedrooms, each block having a communal sitting room and kitchen.
The centre had run an ecumenical training programme designed to help students develop skills and experience in spiritual direction.
In a statement regarding the future of the FISC, principal Fr Thomas Reist said the centre had experienced a number of problems, including reduced teaching and support staff, problems securing visas for students and poor student enrolment numbers.
"During the summer and autumn several proposals were made by supporters of FISC to restructure the centre," the board said.
"The trustees expressed their gratitude for these initiatives. In the end, the trustees judged that the adverse conditions of the past five years have put the FISC in an unrecoverable state."
William Hinckley, director at BTF Partnership, said: "This is a fantastic opportunity for either an occupier seeking a residential study centre or for those involved in the student rental market.
"It offers good quality accommodation ready for occupation with scope for further extension or development.
"With less than 23 per cent of the city's students housed in university accommodation, Canterbury is considered a top investment opportunity student accommodation and this occupies an ideal location next to the university."
Find
commercial property for sale
.
Subscribe today to read and search all our news, premium articles, business sale listings and buy/sell resources.
Look around the Business Sale Report
10 Biggest Buyer Mistakes
Fill in your details below to get our FREE guide
Next Steps...
Subscribe and get contact details straight away.
We send you login details to access information for all the businesses listed for sale.
Give us your acquisition criteria and our researchers will begin searching for specific opportunities that match your requirements.
View new opportunities you won't find anywhere else and use daily notifications to stay ahead of the competition.
If you have any questions, get in touch with us to find out how we can help.
Call us on +44 (0)20 8875 0200
Or email info@business-sale.com
Latest articles in this category