Gateshead's historic old Town Hall put up for sale
Thu, 30 Mar 2017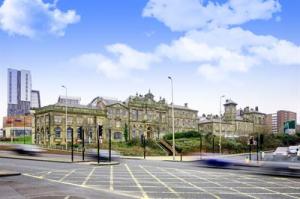 Gateshead Council has put its historic Old Town Hall - the municipal heart of the town for almost 120 years - up for sale, continuing a trend of local authorities selling off property to raise money.
The grade-II listed Victorian building in Swinburne Street is used to house offices, the council's main debating chamber, a magistrates' court complete with cell block, a police station and police house. The council chamber and most council offices relocated to Gateshead's Civic Centre in the 1980s.
The sale also includes a stretch of land and other council-owned Victorian buildings including Swinburne House, which was previously used as a bank, a building society, the borough's first public library and a post office. In total 4.28 acres are up for sale.
Gateshead Council leader Martin Gannon said: "This is truly an impressive site, containing some of Gateshead's finest buildings and a major asset, not just to our town centre but to the historic culture of the region.
"The word unique is often overused but not in this instance. This site has huge potential mixing old and new, and we are confident a visionary developer will bring new life to this once bustling and historic area, creating new jobs, visitors and opportunities for local people."
The site - in an area of Gateshead known as the Old Town Hall Quarter - is close to the bridges of the Tyne and would offer a "wide range" of development opportunities including retail, office, hotel, leisure and residential uses.
Many councils are
selling properties
as they seek to raise cash to manage their budgets.
Between 2010 and 2015, councils in England and Wales had their main grant cut by 40 per cent, leaving them to find £20 billion of savings.
Examples include Eastbourne Borough Council selling four farms covering 2,900 acres and Brighton Council selling 120 acres of land, some of it a site of special scientific interest.
You can subscribe
here
Subscribe today to read and search all our news, premium articles, business sale listings and buy/sell resources.
Do you want to gain access to the latest businesses for sale as well as all UK administrations, liquidations and all winding-up petitions?
Business Sale Report is your complete solution to finding great aquisition opportunities.
10 Biggest Buyer Mistakes
Fill in your details below to get our FREE guide