Patisserie Valerie owner ponders £150m Gail's bid
Wed, 29 Nov 2017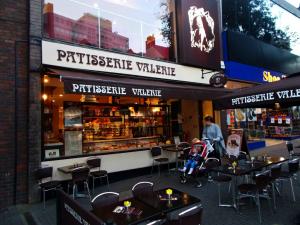 The owner of artisan bakery chain Patisserie Valerie is poised to make a £150 million bid for the company that owns another upmarket baked goods chain.

The Times reports that last month the board of Bread Holdings - which runs 38 Gail's bakeries, most of which are located in London, as well as wholesaler Bread Factory – had called on financial services firm KPMG to advise on strategic next steps for the firm.

Luke Johnson, who owns 60 per cent of Bread Holdings and is a 39 per cent shareholder in Patisserie Valerie, confirmed that Patisserie Holdings was keen to use a "strong balance sheet" to make an acquisition, one of the reasons for its public float in 2014.

Any deal between the two would bring together two companies in which Johnson is chairman. As a result, should any negotiations arise between the firms it is understood that he would not be involved in order to avoid any conflicts of interest.

When asked whether Patisserie Holdings would bid for Bread Holdings, Johnson replied: "If it were to become available at an attractive price, we'd certainly be interested in looking at it."

The Patisserie Valerie owner has enjoyed a prosperous time in the past year, with profits growing by 17.1 per cent generating cash reserves in excess of £21.5 million. The high street shops have contributing £84.4 million worth of sales in the year up to September 30, allowing the firm to open 20 new Patisserie Valerie stores while closing only five.

Patisserie Holdings also opened its first new store under the Philpotts banner, which serves sandwiches and salads, in Manchester's Spinningfields shopping centre.

Speaking about his company's recent successes, Johnson said it had avoided some of the pressures facing the rest of the casual dining sector because it offered an "affordable treat, is not London-centric, keeps tight control of costs and is disciplined on rents".
Subscribe today to read and search all our news, premium articles, business sale listings and buy/sell resources.
Do you want to gain access to the latest businesses for sale as well as all UK administrations, liquidations and all winding-up petitions?
Business Sale Report is your complete solution to finding great aquisition opportunities.
10 Biggest Buyer Mistakes
Fill in your details below to get our FREE guide