Time Inc to sell off British business and magazines
Tue, 26 Sep 2017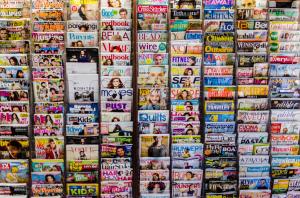 New York-based publisher Time Inc is set to put up its British business and several magazines, including NME, Marie Claire and Horse & Hound, up for sale in order to cut costs.
Time announced last week that it was hoping to sell many of its assets after telling investors that revenues had fallen across the last quarter, with both sales and advertising delivering unexpectedly poor results - a 17 per cent drop in performance.
Alongside its portfolio of UK titles, which also includes the TV Times, Wallpaper, Country Life and Woman's Own, Time has also identified its customer service wing and a majority stake in Essence Magazine for sale. The total value of assets earmarked for offload sits at around $488 million (£363 million), or 17 per cent of Time's total revenues for 2017.
The publisher's management said it hoped that selling the assets would "improve its capital structure and optimise its asset portfolio".
Time's British division, formerly known as IPC Media before being renamed Time Inc UK, houses many of the country's biggest magazine publishers. The IPC brand was created in 1963 as the then International Publishing Corporation was founded as a holding company for the Mirror Newspaper and other magazine publishers.
IPC Magazines was created 5 years later and eventually bought by Reed International, another publisher, in 1974, before being taken on by Time Inc in 2001.
Time's quarterly reports reveal that the company's magazine circulation revenue fell by 12 per cent in the quarter to June 30, while advertising revenue fell by 12 per cent as advertisers and readers continue to look online.
One of Time's leading British titles, music news magazine NME, recently transformed into a free title in order to overcome circulation and sponsorship issues.
The sale of its British business comes as other print publications struggle in an increasingly online marketplace: earlier this week the owners of Rolling Stone also announced that the title was up for sale.
Find a
business for sale
.
Subscribe to the
Business Sale Report
.
Subscribe today to read and search all our news, premium articles, business sale listings and buy/sell resources.
Do you want to gain access to the latest businesses for sale as well as all UK administrations, liquidations and all winding-up petitions?
Business Sale Report is your complete solution to finding great aquisition opportunities.
10 Biggest Buyer Mistakes
Fill in your details below to get our FREE guide