Yorkshire graphite firm's MBO funded by Northern Powerhouse fund
Wed, 24 Jan 2018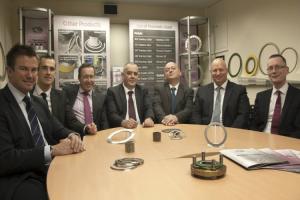 A manufacturing firm in West Yorkshire has successfully undergone a management buy-out (MBO) after securing backing from several different organisations, including the government's Northern Powerhouse Investment Fund (NPIF).

Gee Graphite, a firm that makes graphite products such as gaskets for the oil and gas industry, was taken over by its management team thanks to varied sources of finance. The firm also offers a subcontracted water jet cutting service and was one of the first to implement the technology in the UK.

Darren Pearson, Dave Bennett and Steve Pitts have taken the reins of the Dewsbury-based business. The trio have been with the company for nearly 40 years between them and bring an in-depth knowledge of the company's outlook and several plans for future growth.

Pearson said: "We're very excited to have completed this deal and have ambitious plans to grow the business."
The MBO was completed thanks to financial backing from the Business Enterprise Fund (BEF) and Dutch bank ABN Amro, as well as support from Wheawill and Sudworth Chartered Accountants and Huddersfield legal practice Ramsdens Solicitors.

Following the deal, the new management team also approached BEF to obtain more funding through the NPIF to support the business's growth plans going forward, creating two new jobs in the process.

Pearson explained: "There's already scope to streamline our processes, allowing us to compete for further contracts. Gee Graphite's core offering is very specialist and has been honed for nearly 30 years – with this competitive advantage, we can take the business to the next level."

The NPIF is supported by funds from the European Union through the European Regional Development Fund.
Subscribe today to read and search all our news, premium articles, business sale listings and buy/sell resources.
Do you want to gain access to the latest businesses for sale as well as all UK administrations, liquidations and all winding-up petitions?
Business Sale Report is your complete solution to finding great aquisition opportunities.
10 Biggest Buyer Mistakes
Fill in your details below to get our FREE guide